Also available now at iTunes, Amazon
and other national retailers..

Picasso, That's Who! ( And So Can You!) wins NAPPA Gold!!
Picasso, That's Who! (And So Can You!) new album available now!
Listen:
A-C-T-I-O-N (Jackson Pollock)
Picasso, Thats Who! (Pablo Picasso)
Who Made the Splash (David Hockney)
Grandma Moses (Grandma Moses)
Swingin' Little Duck (Alexander Calder)
See A Painting By Georgia O'Keeffe (Georgia O'Keeffe)
Dot In Motion (Paul Klee)
Telling Stories (Romare Bearden)
M-A-T-I-S-S-E, Matisse (Henri Matisse)
Impression, Monet (Claude Monet)
Paint a Picture, Too
Hot on the heels of her 2011 Parents' Choice® Silver Honor Award winning CD, Cousins Jamboree, independent children's musician Hope Harris is excited to embark on a lively new adventure into the world of art with the May 22 release of Picasso, That's Who! (And So Can You!). The album takes kids and families through a tuneful celebration of 19th and 20th century visual artists, offering musical mini-lessons in art appreciation and encouraging listeners to pick up a brush or a crayon and try creating art!
Expertly produced by Rob Friedman, co-producer of the Dan Zanes family albums, Picasso, That's Who! (And So Can You!) invites kids to hop a train with Romare Bearden, action paint like Jackson Pollock, take a line for a walk with Paul Klee, jump off the diving board into a painting by David Hockney, look closely at the petals of a flower like Georgia O'Keeffe, and more.
Cousins Jamboree
Also available online at these sites:
Cousins Jamboree is a Winner of
a Parents' Choice Silver Honor Award!!!
Click to hear Song samples!
HOWDY HELLO
Cousins Jamboree
FIVE LITTLE MONKEYS
HANG ON FRIEND
Gelbart Dufrain
Down in the Valley
I LOVE APPLES
I CAN DO IT
Eddie the Otter
GOOD MANNERS
I Am An Alien
Seatbelt Buckled
Babysitter
A LITTLE BIT AFRAID
Bright Moon- Bright Sun
HOLCOMB ROCK ROAD
Songs from Cousins Jamboree, produced by Rob Friedman who among other projects is the co-producer of the Dan Zanes Family Albums, will have your entire family dancing in the kitchen and singing in the car! Rocking songs, whimsical songs, heartfelt songs, and soon-to-be sing along songs combine in this 16 track album of original songs and arrangements. Joined by talented musicians Jeff Allen, Doug Yowell, Wells Hanley, Capathia Jenkins, Elizabeth Bruce, Ernesto Villa-Lobos, and Rob Friedman, Hope sings with infectious joy!
---
JULIE THE STARFISH AND OTHER LULLABIES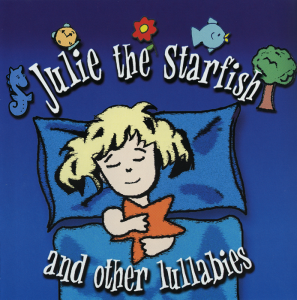 Available now at CDBaby:
Also available on iTunes, click here
Julie The Starfish
If I Were A Clock
Watch Over My Baby
DREAM, SLEEP, CALM
IF I WERE A CLOUD
HUSH NOW
Annie Lyall
SNOWFLAKES
Sleep On
WATER
by Hope Harris and J. R. Getches Julie the Starfish and Other Lullabies appeals to parents and children of all ages. Infants respond to the ethereal blend of voice and guitar and older children love to sing and listen to the stories told through the songs. Whether you are tag-team parenting, driving carpool, chasing twins, dressing a toddler, or holding a crying infant trying to remember from which side the baby just nursed, you need something to calm the entire family! Parents call it the Magic CD!