Buy CDs now at CDBaby and Downloads on iTunes!
Cousins Jamboree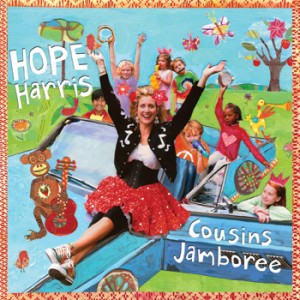 Available now at CDBaby:
Also available online at these sites:
Click to hear Song samples!
HOWDY HELLO
Cousins Jamboree

FIVE LITTLE MONKEYS
HANG ON FRIEND
Gelbart Dufrain

Down in the Valley

I LOVE APPLES
I CAN DO IT
Eddie the Otter

GOOD MANNERS
I Am An Alien

Seatbelt Buckled

Babysitter

A LITTLE BIT AFRAID
Bright Moon- Bright Sun

HOLCOMB ROCK ROAD
Songs from Cousins Jamboree, produced by Rob Friedman who among other projects is the co-producer of the Dan Zanes Family Albums, will have your entire family dancing in the kitchen and singing in the car! Rocking songs, whimsical songs, heartfelt songs, and soon-to-be sing along songs combine in this 16 track album of original songs and arrangements. Joined by talented musicians Jeff Allen, Doug Yowell, Wells Hanley, Capathia Jenkins, Elizabeth Bruce, Ernesto Villa-Lobos, and Rob Friedman, Hope sings with infectious joy!
---
JULIE THE STARFISH AND OTHER LULLABIES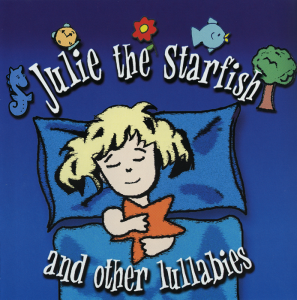 Available now at CDBaby:
Also available on iTunes, click here
Julie The Starfish

If I Were A Clock

Watch Over My Baby

DREAM, SLEEP, CALM
IF I WERE A CLOUD
HUSH NOW
Annie Lyall

SNOWFLAKES
Sleep On

WATER
by Hope Harris and J. R. Getches
Julie the Starfish and Other Lullabies appeals to parents and children of all ages. Infants respond to the ethereal blend of voice and guitar and older children love to sing and listen to the stories told through the songs.
Whether you are tag-team parenting, driving carpool, chasing twins, dressing a toddler, or holding a crying infant trying to remember from which side the baby just nursed, you need something to calm the entire family! Parents call it the Magic CD!